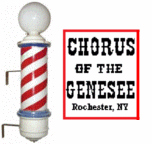 The Chorus Website has a new look weekly!
The Chorus of the Genesee is a non-profit, educational organization devoted to preserving the original American art form of Barbershop Harmony. The Chorus rehearses in Webster, New York, but performs all over the greater Rochester area. A portion of our proceeds support both local and national service projects.


---
Singing Valentines
Sweetheart Songs
Performed by a Barbershop Quartet
From the Chorus of the Genesee
And
A Long-Stemmed Red Rose
All for a modest donation of just $50
(Cash, Check, Visa or Master Card)
9 a.m. – 10 p.m. February 13 to 15
For orders or additional information call 585-747-9352
or send an e-mail
---
Our 2015 Spring Show will be at Penfield High School on May 16.

Save the date and come back soon for more details.
Our guest quartet will be




These four young men form J.A.M. and are the reigning Senecaland District Novice Champions and missed first place overall by two points. Jason Weitz (left) is one of the assistant directors of the Chorus of the Genesee. Way to go Jason!
---



Geezer Q is the current Seneca Land District Senior Quartet Champion. These experienced singers will be competing against other foursomes at the International Senior Quartet Contest in New Orleans. Chorus of the Genesee member Don Stothard is also a quartet/chorus coach and a Certified Judge in the Barbershop Harmony Society Contest and Judging Program.




---
Shots of a typical rehearsal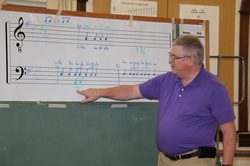 Here is a shot from our weekly music theory lesson.

Presented by Dan Norton.




---


Steve Link teaching the chorus a new song "Why Are All The Songs?"

Steve composed the song and wrote it as well.




---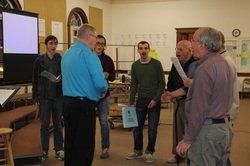 Polecats anyone?

Here is Dan Norton teaching our newest members some Polecats.



---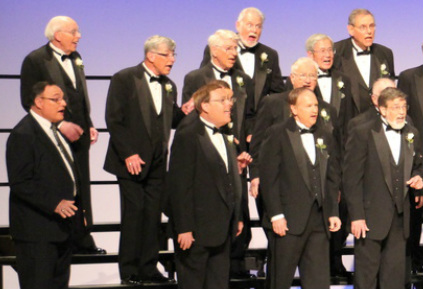 Sing With Us, Join Us
Guest Night
Just stop in any Tuesday night 7-9:30.
See if you like us.

Men, check out Barbershop Harmony.Sing, Laugh, Learn and stay for Refreshments.
"Our goal is to have every man, in his own way, experiencing the joy of hearing his voice contribute to the sound of barbershop harmony."

The Chorus of the Genesee
Harmony House, 58 E. Main, Webster Village (585) 265-9540 It's a good time!


---
About Us:
The Chorus of the Genesee is a part of the Rochester Chapter of SPEBSQSA, Inc, the Society for the Preservation and Encouragement of Barber Shop Quartet Singing in America. We sing four part a cappella music, specializing in an original American art form called barbershop harmony. Our membership comes from Rochester and many surrounding communities. Few of us are professional musicians, but we all love to sing. We meet Tuesday nights at 7:00 in Harmony House (directions).

In addition to our annual show in the Spring, we provide entertainment at music festivals, private functions, area nursing homes, senior centers, and museums. We are a championship chorus that has represented Western New York and Northwestern Pennsylvania in international competition more than twenty-five times. Here is our history:
The chorus started out as the Golden Notes. They later became known as the Fundamentals. Eventually, they became known as the Chorus of the Genesee. Here is a listing of their winning history.

District Champions: 1953, 1958, 1963, 1970, 1973, 1980, 1984, 1987, 1991, 1995, 1999, 2001, and 2005.

International Representatives: 1956 – Minneapolis, 1961 – Philadelphia, 1964 - San Antonio, 1965 - Boston, 1966 - Chicago, 1967 – Los Angeles, 1968 - Cincinnati, 1969 – St. Louis, 1971 - New Orleans, 1972 – Atlanta, 1976 - , 1977 – Philadelphia, 1978 - Cincinnati, 1980 – Salt Lake City, 1981 – Detroit, 1982 – Pittsburgh, 1983 – Seattle, 1984 – St. Louis, 1985 - Minneapolis, 1987 – Minneapolis, 1988 – San Antonio,, 1989 Kansas City, 1992 – New Orleans, 1993 – Calgary, 1996 – Salt Lake City, 1997 – Indianapolis, 1998 – Atlanta, 1999 - Anaheim, 2001 - Nashville, 2002 - Portland, 2003 - Montreal

The Chorus is a charitable organization that supports the national

Harmony Foundation and Rochester's own Al Sigl Center. We encourage music education in area schools through the Young Men In Harmony program and provide music scholarships to graduating seniors from area high schools.